Hello everyone!
After finding some contradictory articles where the final result always depends on the interests behind the publisher who values ​​his emulator for having 1000% more performance than the competitors, I decided to do my own tests from a performance-only point of view, ignoring additional features since the main purpose of this comparison is to be able to advise which is the best emulator when the computer's resources are limited.
Setup
In order to be able to match as much as possible the starting point of all emulators, the configurations used were as follows :
Android: 7.1.2
CPU: 2 cores
RAM: 2560 MB
Render mode: OpenGL
Display: 1080x1920, 320 DPI, 60 FPS
Baseline
It is important to start by analyzing the starting point to see right from the start if there is a difference.
At this point all 3 emulators have a CPU utilization of less than 1%, however, there is already a difference in RAM usage, being the winner in this case BlueStacks with a usage of only 375 MB, followed by Nox with 530 MB and lastly MEmu with 665 MB.
So in this respect BlueStacks takes the win.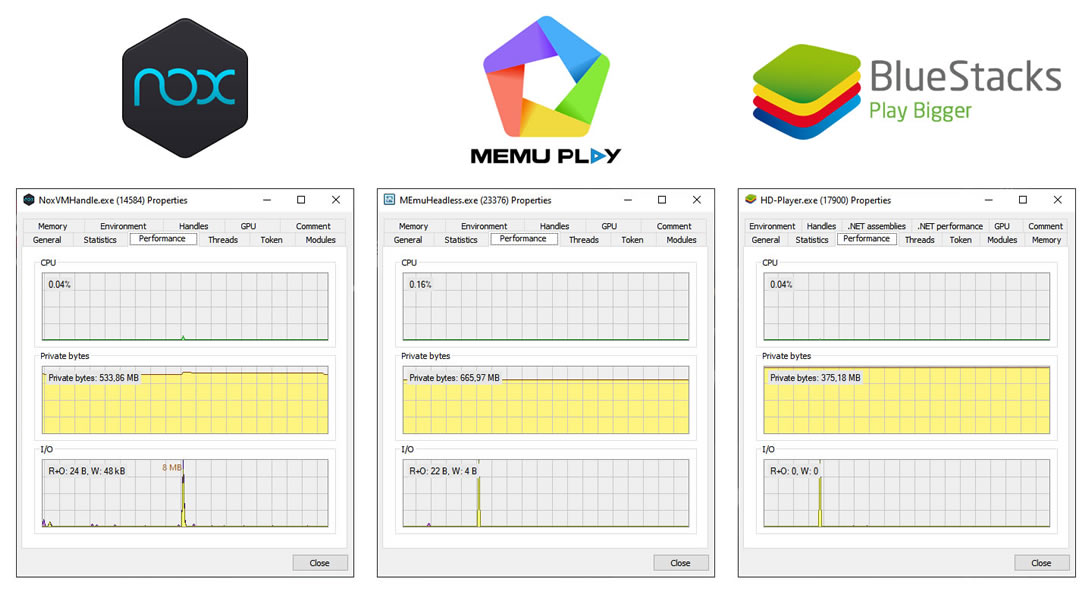 Test 1 - Geekbench 5
In this test the results were very close and consistent, however, despite the normal small oscillations and the difference between scores not being very large, the order of the scores has always remained the same in all tests.
The winner in this test was Nox with scores around 1100 points in single-core and 2140 in multi-core, followed by MEmu and BlueStacks with similar scores around 1086 points in single-core and 2105 points in multi-core. So it may have been close, but there is no doubt that the winner is Nox.
In addition, during the execution of this test the baseline is reviewed in the analysis of resource usage, all 3 emulators have a similar CPU usage around 12% and a RAM usage that after subtracting the baseline also shows a similar use of approximately 100 MB.
Test 2 - CPDT Benchmark
In the second test the objective is to compare the reading and writing speeds and this is the first test where we see the first very significant results.
In addition to the main objective of this test, a second factor appeared that can be translated into stability since, apparently, this test can also give errors of "insufficient memory".
Therefore, from the point of view of stability, BlueStacks come first with the presentation of this error with "very low frequency", followed by Nox with "medium frequency" and finally MEmu with "very high frequency". These types of errors can translate into instability that can cause crashes during a game.
However, in the main part of this test, Nox crushed the competition with better speeds in all fields, mainly in the sequential reading of almost 3 GB/s when the average speed of the second place is 1.4 GB/s. In this test MEmu and BlueStacks show very close results but MEmu is clearly the third place in this race.
Test 3 - 3DMark (Sling Shot Extreme Unlimited - OpenGL ES 3.1)
For the execution of this test it is important to note that the CPU-Z application indicates that Nox uses OpenGL ES 3.2, MEmu uses OpenGL ES 3.1 and finally BlueStacks comes equipped with OpenGL ES 3.0.
In this test, once again, Nox wins the race with a final score of approximately 16000 points followed by MEmu with around 13000 points and in last place with 0 points BlueStacks since it failed to even start the benchmark test always freezing in the startup loading.
Conclusion
All emulators have positives and negatives and there is never a perfect emulator regardless of what their creators say, since computers are not all the same, however my advice is :
Start by trying Nox, no doubt the best option in terms of performance
If you still have stability difficulties try BlueStacks
Be sure to try MEmu, I have feedback of situations where for some reason Nox was not working smoothly and MEmu worked
Finally, the settings used are very important, if you can run one of them you probably can run all of them, if you have problems try to lower the resolution and/or the FPS, it has a significant impact on performance.
If you want comment on this analisys you can do it on Reddit :
Reddit ➔ Nox vs MEmu vs BlueStacks - Performance comparison
These benchmarks were done on 2021-04-25 with Nox 7.0.1.0, MEmu 7.5.0.0 and BlueStacks 4.280.0.1022.